SF_PBCS, SF State's financial planning and analysis tool, supports our efforts to align resources to strategy. Navigate the links to the SF_PBCS pages below to become familiar with the various features of the budgeting system at SF State.
SF_PBCS User Guide
Special Note Regarding Data Snapshots
During the budget cycle, on specified deadlines, the Budget office will take snapshots of the data in SF_PBCS. We will always notify the cabinet budget officers of when we will be taking the snapshots. The snapshots allow for us to capture the data at a specific day/time. Any changes made after the snapshot is taken will not be included in that specific snapshot. You can view the snapshots by changing the Scenario dimension in SF_PBCS.
For example, a snapshot was taken on Friday 5/22/2020 at 1PM. The scenario is named: Bud_FY20_05292020.
The Scenario dimension can be changed on either the the P/L Budget Division Report  or the P/L Budget Division Report.
See Instructions below
Additional Updates
We recently made a minor change to the P&L Reports within PBCS.  The Instructional Faculty account grouping can now be expanded to show the GL accounts (previously these accounts were displayed without a need for expansion).  If you would like to print/view the GL accounts please follow the steps in the PBCS User Guide, page 17. 
Note that if you are looking to download the report into excel, in order to see the GL account detail in the report you will have to open the report in HTML, expand on the grey arrows (See below instructions). Once you have expanded on the grey arrows you will then change the file format from "HTML Preview" to "Export to Excel". This option can be found under the report filters.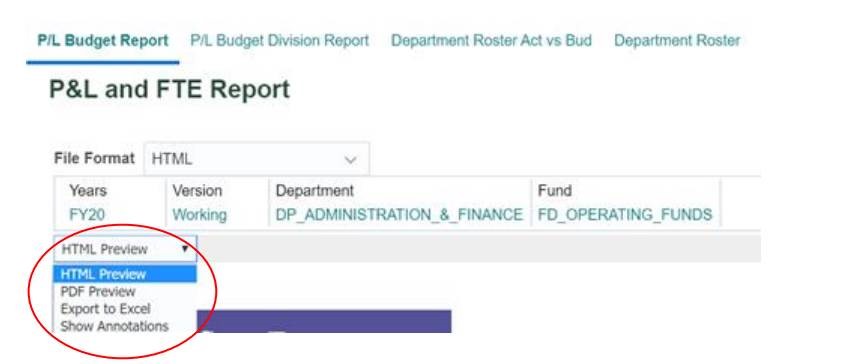 Tap either the P/L Budget Report or the P/L Budget Division Report tab.
Change the Scenario by tapping the name of the current choice under the Scenario tab.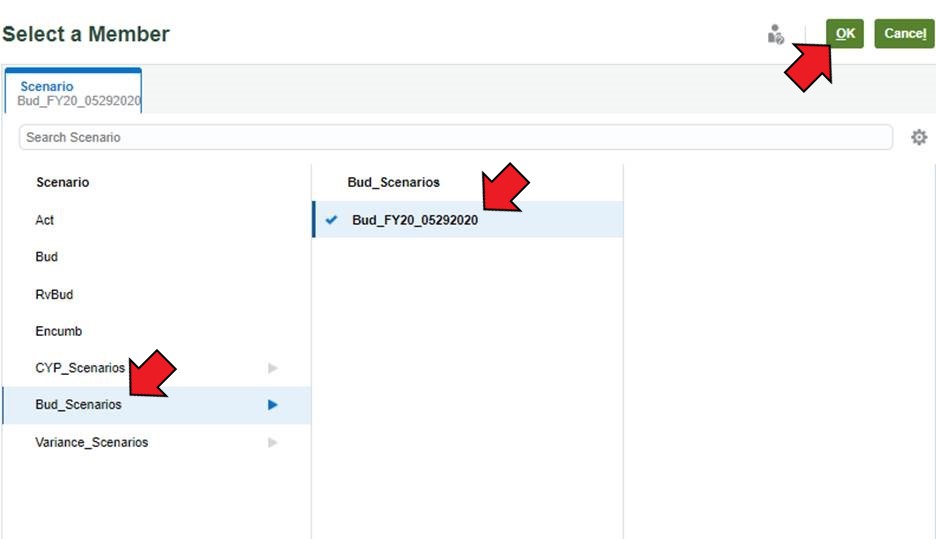 In the Select a Member window, tap Bud_Scenario from the Scenarios list.
Choose a snapshot from the list of Budget Scenario snapshots.
Tap OK.