Navigate the links to the Budget Process pages below to become familiar with the various aspects of campus budgeting at SF State.
Budget Timeline
The SF State, University Budget Planning Cycle activities are tied to the budget processes of the CSU system and Governor's Budget.
Our Budget Planning Cycle
The three decision processes build on one another to combine into the campus budget. To learn more about the three interconnected timelines, visit our Budget Cycles web page — part of our Budget 1O1 series.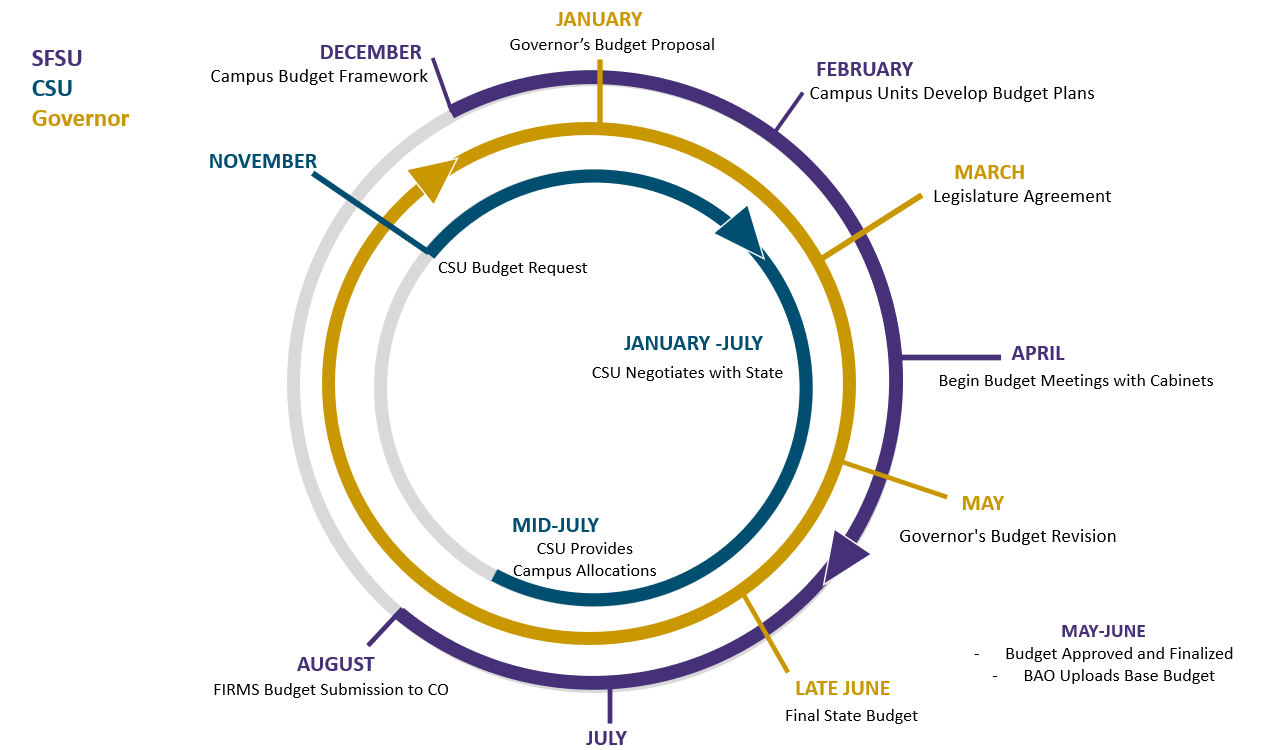 Fiscal Year 2021-22
November 2020
December – February 2021
SFSU Campus Budget Framework- Campus Leadership

Enrollment scenarios –Enrollment Management and Institutional Analytics
Curriculum and classes scenarios (PT faculty pool) –Academic Resources
Budget assumptions – Budget Administration & Operations

State allocation and other campus mandatory fees adjustments
Direct- salary, benefits
Indirect-utilities, insurance, financial aid
January 2021
Governor's budget proposal
February 2021
Approved scenario for campus planning — CFO & President
SF State Campus Budget Planning memo from President & CFO
SF State Campus units develop Budget plans — Campus Planners
January – July 2021
CSU negotiates with State
March 2021
Governor/Legislature negotiations
April 2021
SF State begins budget meetings with Cabinets VP's, CFO and President
May 2021
Governor's Budget Revision
May – June 2021
Governor signs final State Budget
SF State final revised scenario — Final B-memo — Budget Administration & Operations
SF State Working Budget approved and finalized — President and CFO
July 2021
CSU provides campus allocations
SF State Final Budget load in CFS — Budget Administration & Operations
August 2021
SF State uploads FIRMS Budget Submission to Chancellor's Office — Budget Administration & Operations
November 2020
January 2021
February 2021
March 2021
May 2021
June 2021
July 2021
Each year, as part of our mission to create and disseminate planning information, Budget Administration and Operations compiles the budget plan for the Operating and Capital Budgets. Visit our online archive of annual Budget Reports.