Budget Administration and Operations (BAO) is a part of Administration and Finance. Navigate the links below to learn more about our purpose, our function, our team and our partners.
Who We Are
Meet our leadership and our Budget Administration and Operations team.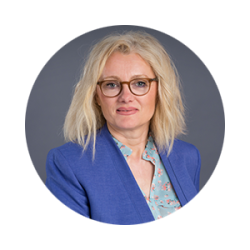 Elena Stoian
( She/Her/Hers )
Executive Director
As the executive director for Budget Administration and Operations, Elena directs the development and administration of the University budget. Elena received a bachelor's degree in Accountancy and a master's degree in Science from Gheorghe Asachi University (a program overseas) and graduated from the University of California Business Institute of Santa Barbara program. Elena comes to SF State with more than 11 years of experience as an Administrative Business Officer at San Jose State. Overall, she has over 16 years of experience in administration, physical plant financial management, capital planning and construction, operational budgeting, financial modeling and forecasting, and ERP's implementation.
Tiffany Cheng ( She/Her/Hers )
(415) 338-2581
Vacant
Administrative Analyst/Specialist
(415) 338-1463
Jennifer Khuu ( She/Her/Hers )
(415) 338-3434
Cesar Mozo ( He/Him/His )
Associate Director of Financial Management, Office of the Vice President & CFO
(415) 338-6985
Derek Trang ( He/Him/His )
Manager, Financial & Business Operations, Office of the President & Athletics
(415) 338-2834
Shumei "May" Xie ( She/Her/Hers )
Senior Capital Administrative Analyst Specialist
(415) 338-3145
Bernice Yeh ( She/Her/Hers )
(415) 405-3766
Jesse Shen ( He/Him/His )
(415) 405-7322
Mailing Address 
San Francisco State University
Budget Administration and Operations
1600 Holloway Avenue, ADM 355
San Francisco, CA 94132
Contact Information